Charitable Registration California
Is your nonprofit registered to fundraise in California? We can help!
CONTACT US
For your nonprofit to legally fundraise in California, it must comply with state laws regulating charitable solicitation in California. Compliance entails knowing what forms apply to your organization, completing these forms accurately to avoid having to redo them, and filing these forms on time to avoid penalties. Your organization must stay up to date with state statutes and renew forms whenever they are due. This process can be quite complicated and time-consuming. We can make this process easy for you!
Form 199
Form 199 is the California exempt organization's annual information return file by charitable organizations granted tax-exempt status by the Franchise Tax Board (FTB) and nonexempt charitable trusts.
What to file
Nonprofits with gross receipts greater than $50,000 and all Private Foundations regardless of gross receipts amounts are required to file Form 199. Organizations with gross receipts equal to or less than $50,000 may file Form 199N. Organizations eligible to file form 199N may choose to file a form 199 instead.
Filing Deadline & Extensions
Form 199 must be filed by the 15th day of the 5th month after the close of your tax year. The State of California does not require that exempt organizations file for extensions – they are automatically granted a 7 months extension.
Organizations not required to file form 199 include:
Religious organizations and their auxiliaries.
Political organizations.
Pension trusts.
Religious orders.
Organizations formed and controlled by the state to carry out a function of the state.
Coverdell Education Savings Accounts.
Qualified state tuition programs.
Subordinate organization included in the parent's group return.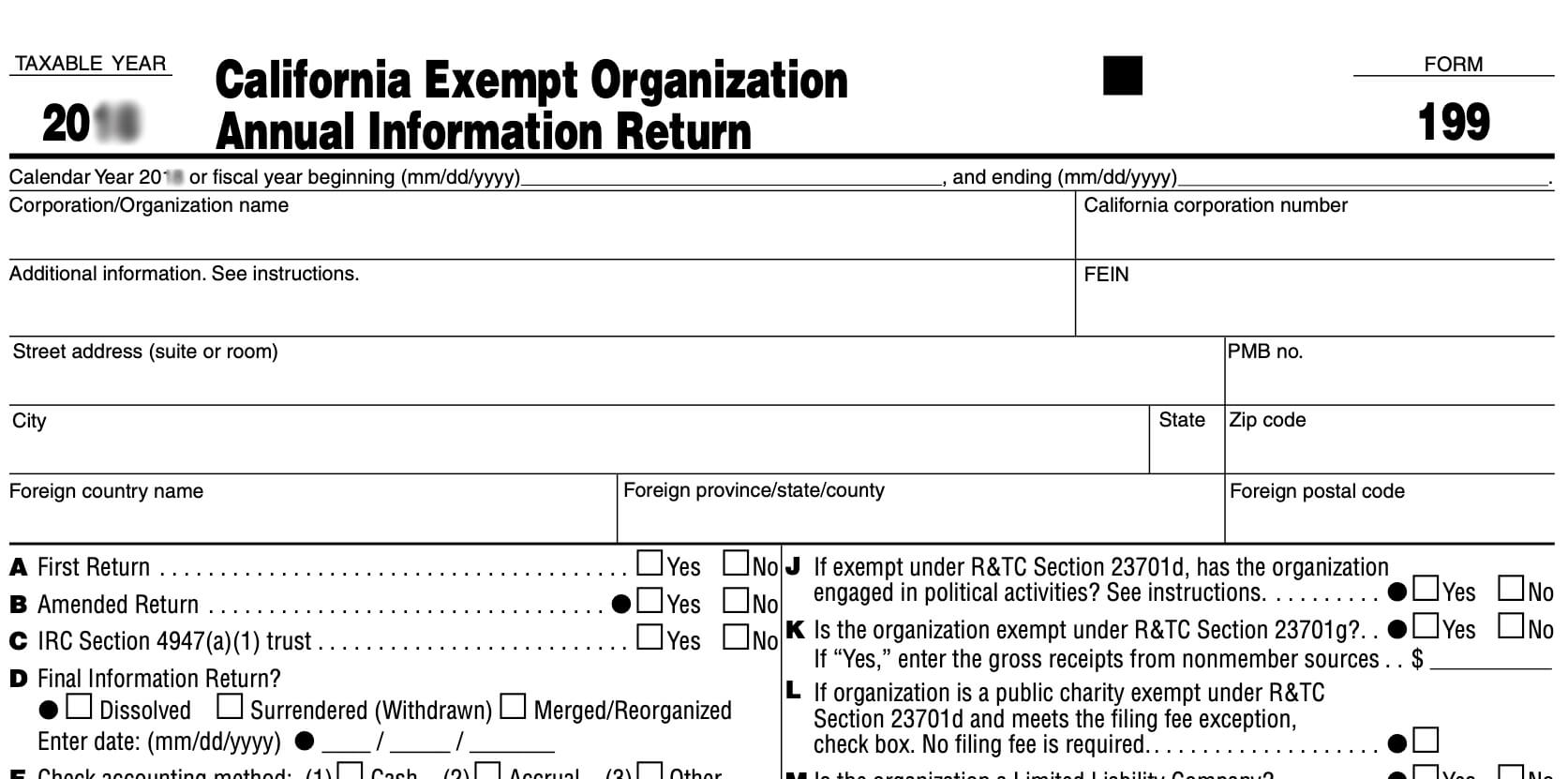 Form 199N (e-Postcard)
Form 199N or e-Postcard is the short form or simplified version of Form 199. In other words, it is the annual electronic filing requirement for small exempt organizations.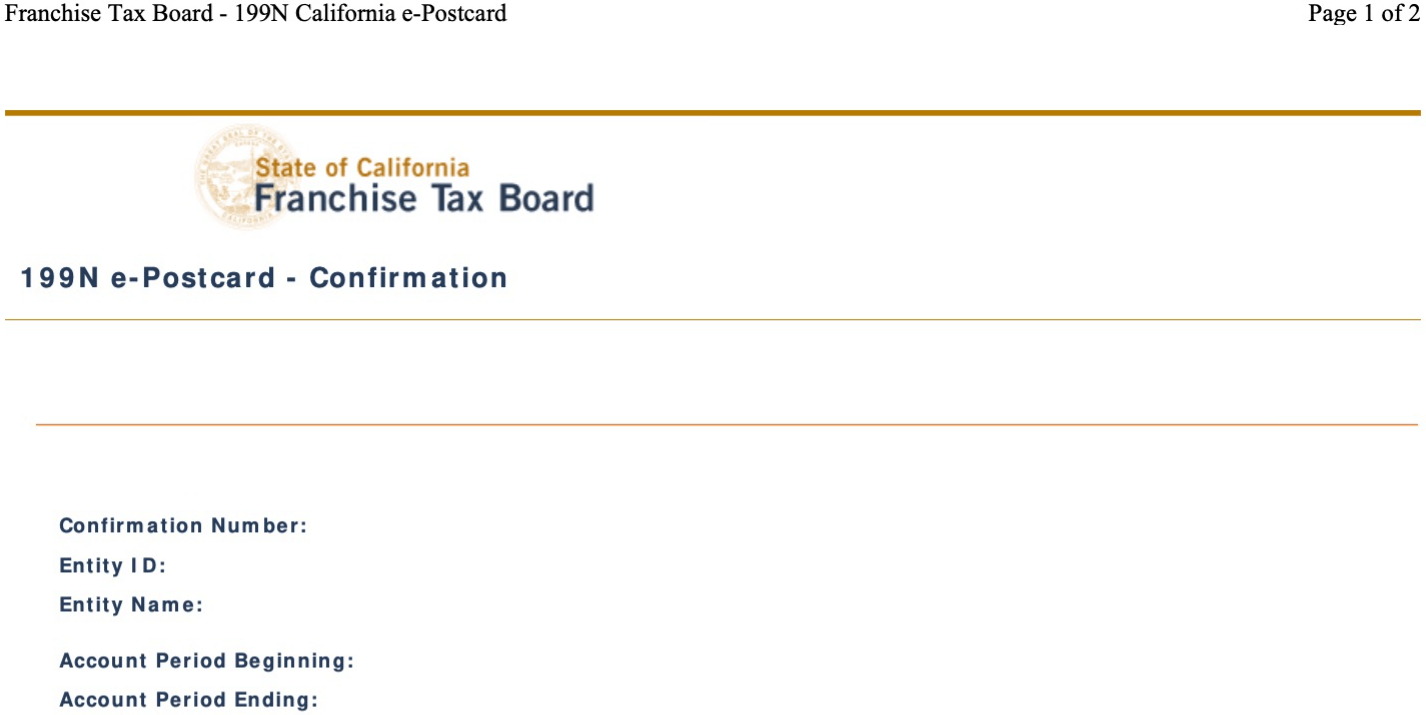 Annual Registration Renewal Fee Report (RRF-1 Form)
All registered charities except religious organizations, hospitals, and educational institutions are required to file the Annual Registration Renewal Fee Report. It must be filed 4 months and 15 days after the end of an organization's calendar year.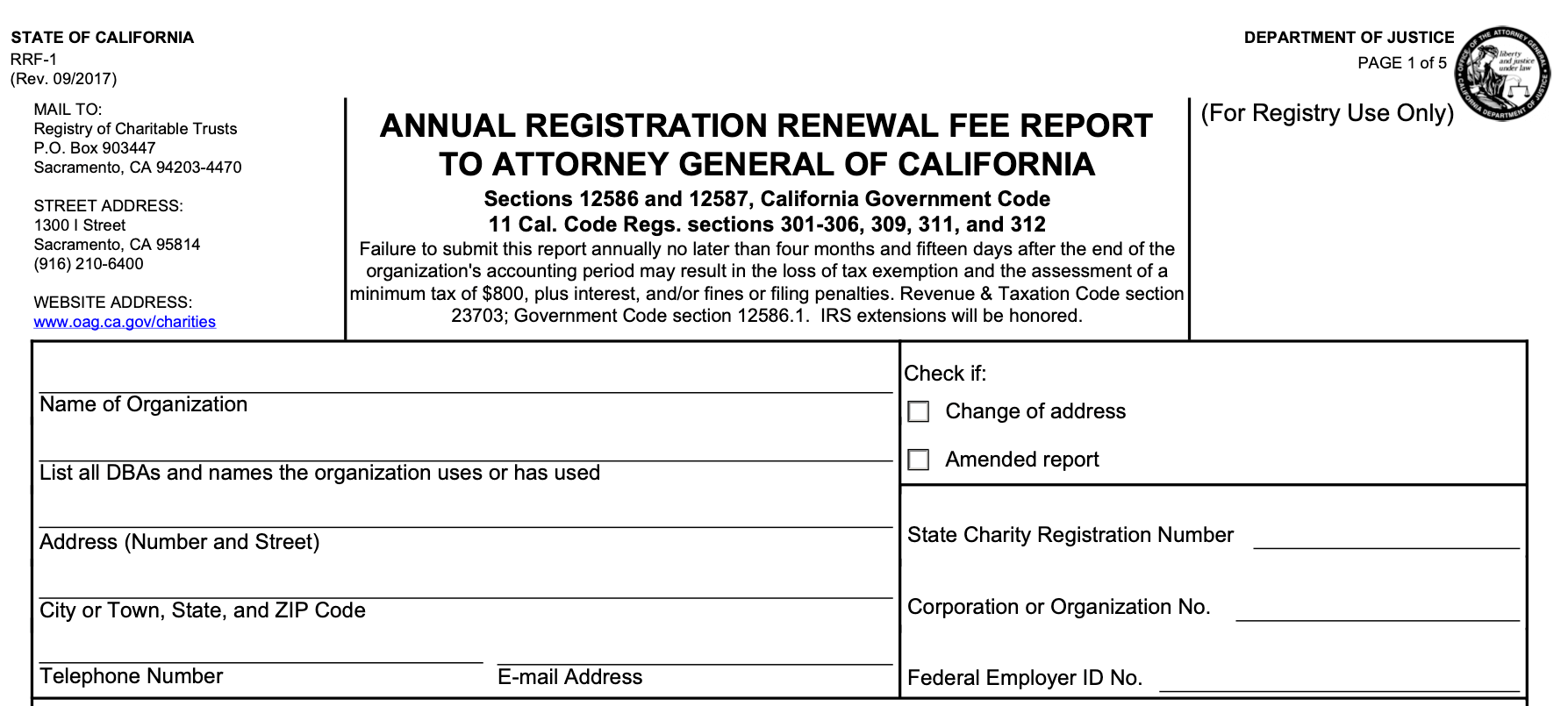 Annual Treasurer's Report (CT-TR-1 Form)
Nonprofit organizations with gross receipts less than $50,000 per year are now required to file an Annual Treasurer's Report (CT-TR-1 Form), together with their Form RRF-1 when their registration comes up for renewal.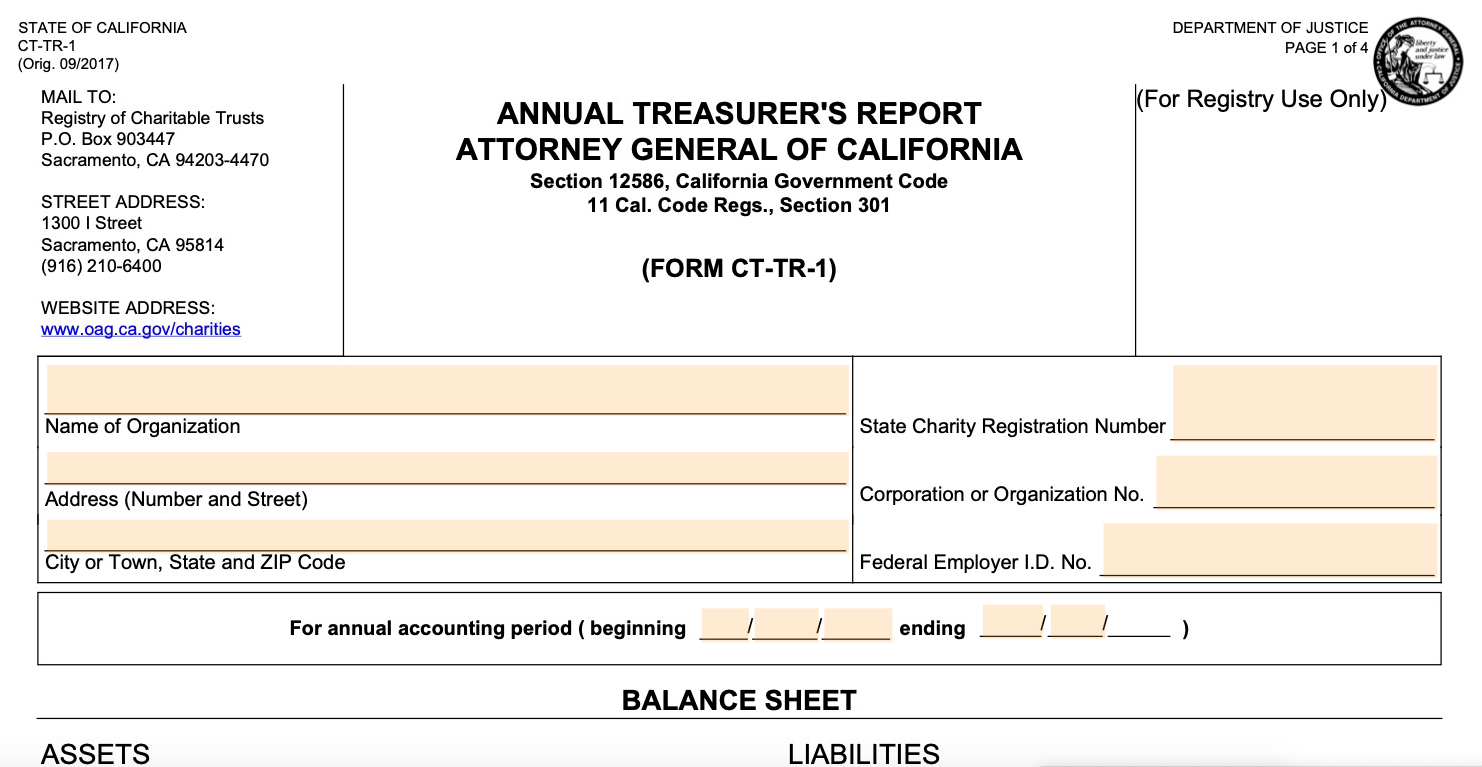 Statement of Information (Form SI-100)
All tax-exempt organizations are required to file a Statement of Information to the Secretary of State every two years. Form SI-100 is due within 90 days of filing your Articles of Incorporation and thereafter every two years.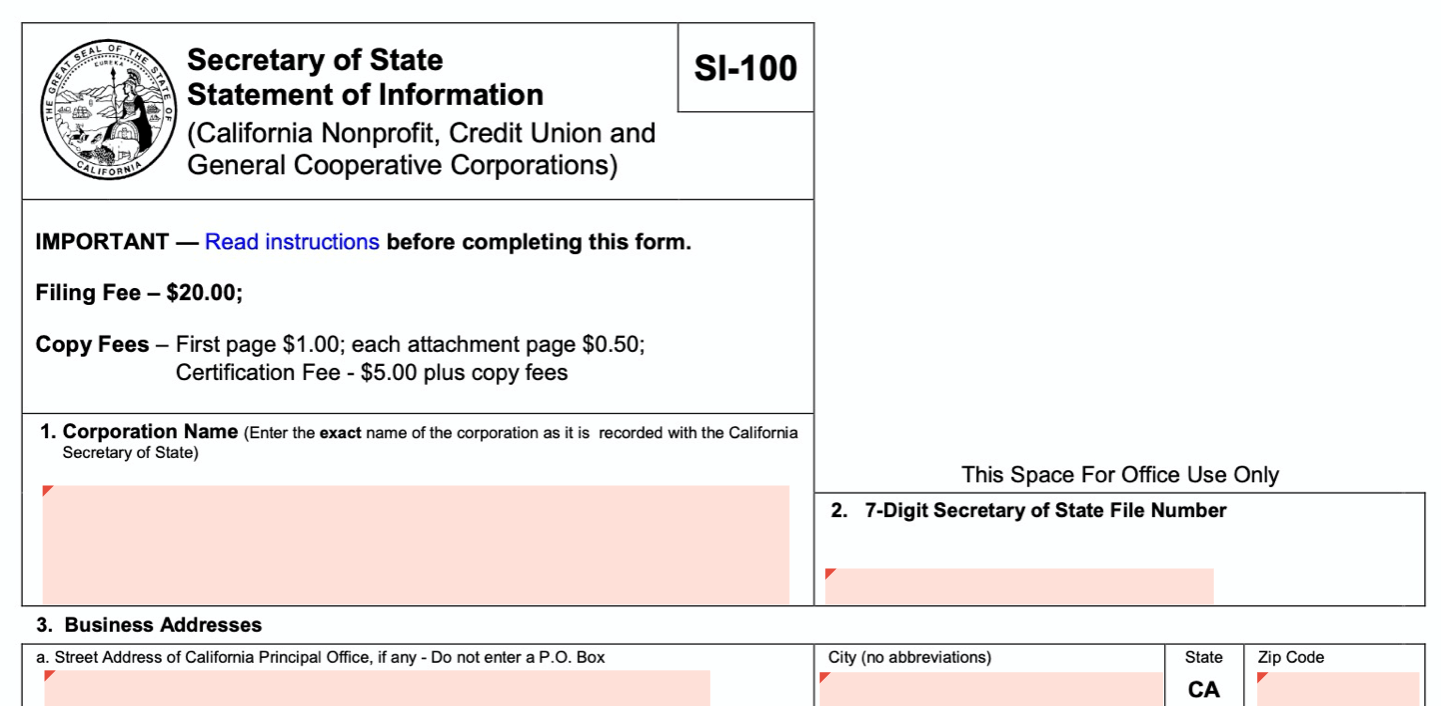 Form 109
If a tax-exempt entity has ayn income of more than $1,000 from any business unrelated to its charitable purpose, it is required to file Form 109. Even if the unrelated funds are used in its charitable work, the organization is still required to file form 109.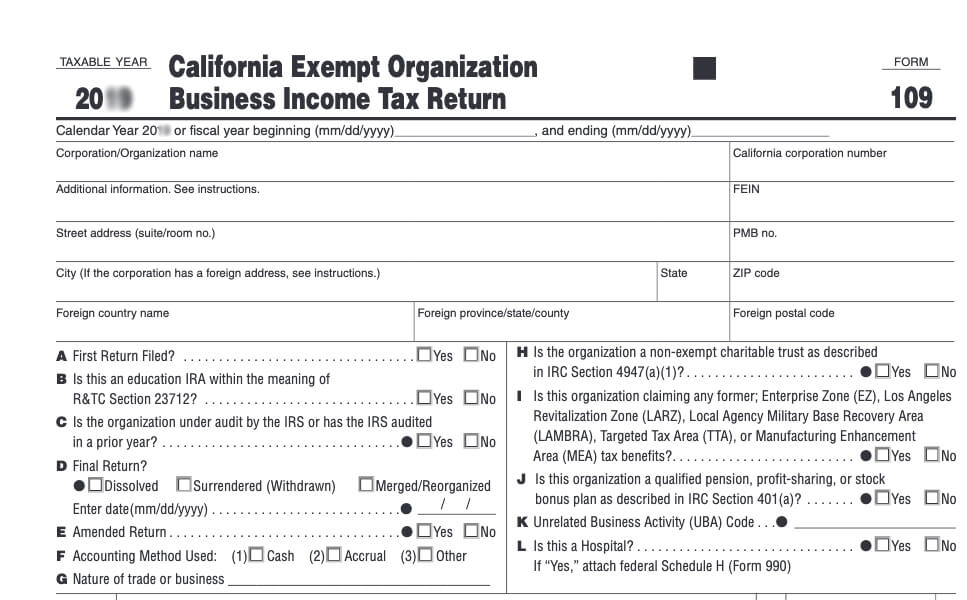 Disclaimer: Labyrinth, Inc. does not provide tax, financial, or legal advice. The information contained herein is provided for informational purposes only, and should not be construed as legal advice. We disclaim all liability for actions you take or fail to take based on any content on this site.