A 'THANK YOU' COULD HELP YOU WITH DONOR RETENTION
Donor retention is as important, if not more important than finding new donors. In fact, the survival of a nonprofit is heavily dependent on its ability to retain its donors. Maintaining fundraising momentum is heavily dependent on reoccurring donors. The higher the percentage of donor retention, the healthier the financials of the nonprofit. According to the Fundraising Effectiveness Project, donor retention rates for nonprofit organizations average only 45%. That means that for every 10 new donors, 5.5 do not contribute a second time. Nonprofits should constantly watch these numbers and allocated resources accordingly to make adjustments whenever necessary to improve donor retention rates.
While finding new donors is very important, the lion's share of a nonprofit's fundraising efforts should be directed at donor retention. Besides, it costs far less to encourage past donors to give again.
'What do you say?'
After a donation is made, be it a first-time donor or reoccurring donor, how well you utilize your 'thank you page' greatly impacts your ability to retain and even attract new donors. It is important that you offer a sincere thank you, like mama taught you growing up. Your thank you page should be personalized in such a way that reinforces the impact their donation just made. Sending a generic thank you page defeats the purpose. Use their name and use language that will make them feel integral to the story. Make sure they leave with the impression that their contribution was directed towards an intended cause or person. In other words, take your nonprofit out of the narrative. They did not give to your nonprofit, they gave to your cause.
no-repeat;left top;;
auto
Missed Opportunity 'Thank You' Letter.

The thank you letter on the right from the UN Refugees Agency, is a good example of a thank you letter that could be better:

First it fails to address the donor directly, by using their name. So instead of saying, 'Dear Supporter', it would have been more effective to say 'Taylor, thank you!'

While the thank you note is clear as far as explaining how their contribution is providing lifesaving care, it could have been more effective to use the child in the image as the beneficiary of the care. It could have referred to the child by name, followed by a brief narrative on how he got to where the image portrays him. This takes the nonprofit away from the narrative and connects the donor, Taylor, directly to the impact they are making.

Furthermore, by not adding or giving Taylor the opportunity to share the page on her social media, an opportunity to reach more potential donors is missed. A global and adequately funded organization like the UN can afford to miss opportunities, the question is, can your organization afford to do the same?
no-repeat;left top;;
auto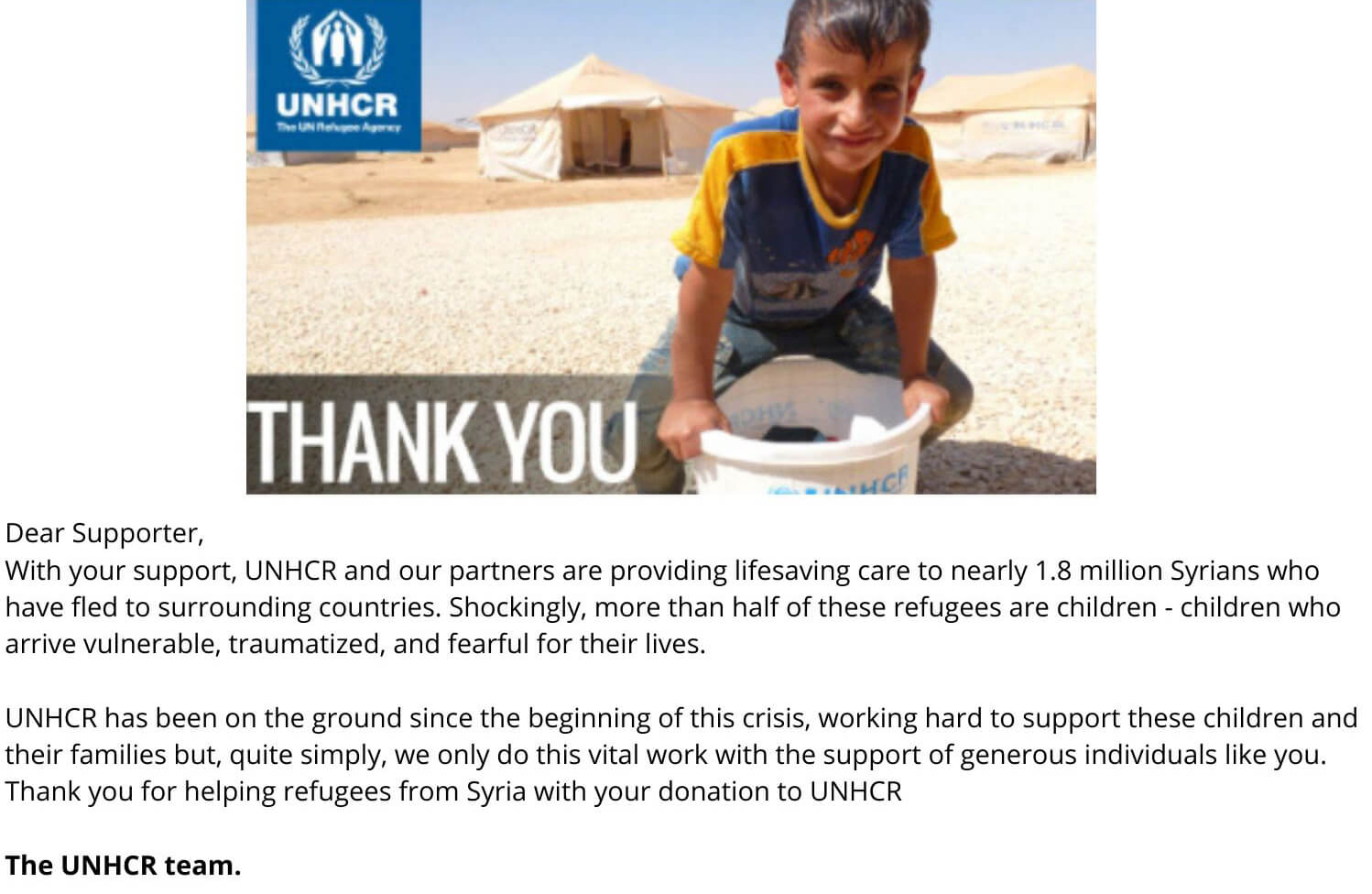 This second thank you note checks a number of boxes:
It uses the name of the donor, Taylor.

It introduces Taylor, to Ewe, the child who will be the recipient of Taylor's donation.

It takes the charity out of the picture and connects Taylor to Ewe. Through the personal story. Taylor is likelier to feel personally invested in the cause.

It encourages Taylor to Share on social media. One of Taylor's friends might just feel inspired enough to play a part in bettering the life of a child.

Now that most social media sites have a fundraising function, it encourages Taylor to start one of her own.
This thank you note did not only just thank Taylor for her contribution, it possibly made her a reoccurring donor, used her to recruit more donors and even convert her into a potential fundraiser for your cause.
Please be sure to reassure you Development Directors that their jobs are secured.
Written By Franklin Asongwe
no-repeat;left top;;
auto